Our patented material, Ozone Gel, has antibacterial, anti-inflammatory, and wound healing effects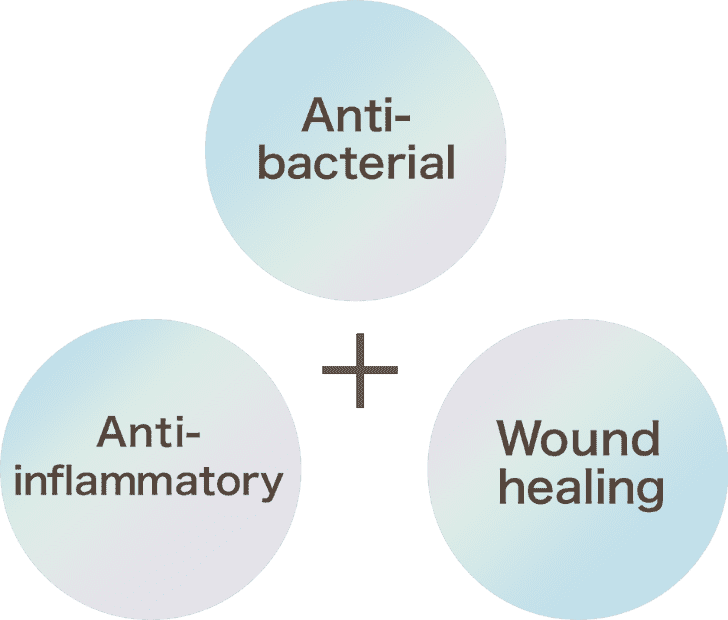 The wound healing effects of Ozone Gel
Promotes collagen production and accelerates wound healing
Study
Research on wound healing using an ozone ointment that was produced by adding macrogol ointment to Ozone Gel at the prosthodontics classroom of the Show University School of Dentistry.

The ointment was applied twice a day to a wound site with a diameter of 5.0mm and a depth of about 1.0mm, and results were measured.
Result
The reduction rate was greater with application of the ozone ointment than with the macrogol ointment, and on Azan staining, dense arrangement of collagen fibers was confirmed.
Measurement Result of the wound site (unit: mm)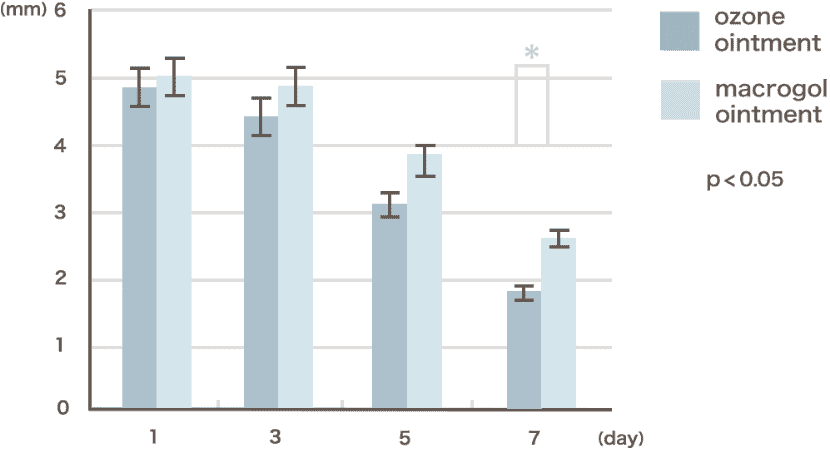 In addition to promoting collagen production and accelerating wound healing, it has been shown to be an immunostimulant and promote hyaluronic acid formation, and a fibroblast activation effect was also confirmed.
*Source: A Histopathological Study of Wound Healing by Ozone Ointment Application
The anti-inflammatory effects of Ozone Gel
Inhibiting inflammatory cytokines can prevent skin inflammation
Study
Joint research conducted by Osaka Dental University, Showa University School of Dentistry and others
Using Ozone Gel diluted to 0.5ppm, the expression levels of interleukin IL-6 and IL-8 in the presence of porphyromonas gingivalis LPS (endotoxin) were measured in vitro.
Result
This research confirmed that Ozone Gel inhibited the expression of IL-6 and IL-8, which are types of inflammatory cytokines, and had anti-inflammatory effects.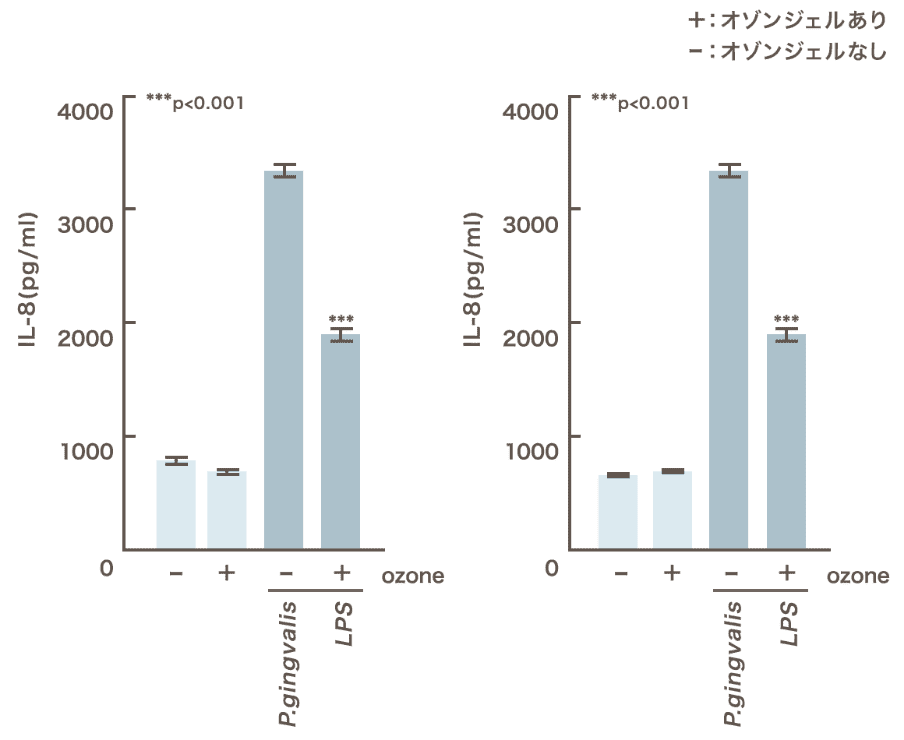 ※Source: The Effect of Ozone on Collagen Type-1 and Inflammatory Cytokine Production in Human Gingival Fibroblasts
The antibacterial effects of Ozone Gel
Ozone Gel does not generate resistant bacteria, and a broad antibacterial spectrum is confirmed, including gram-positive bacteria, gram-negative bacteria, yeast, and viruses.
The effect was confirmed on all species of bacteria (gram-positive bacteria, gram-negative bacteria, and fungus), excluding bacillus subtilis (probiotics).
SEM image of e.coli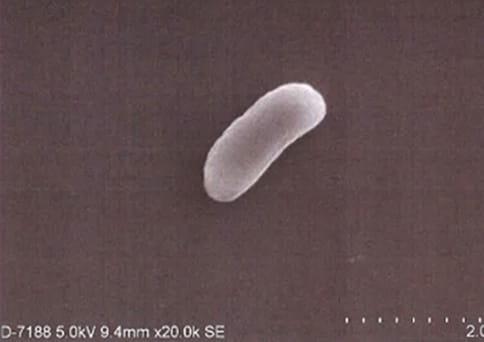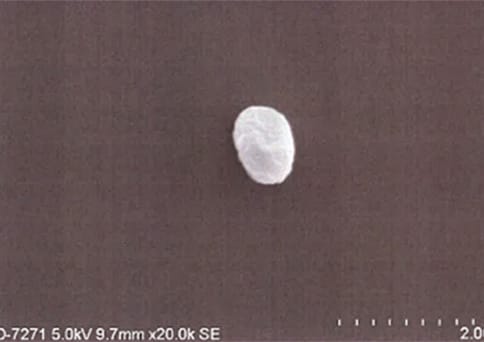 Bactericidal effect in in vitro testing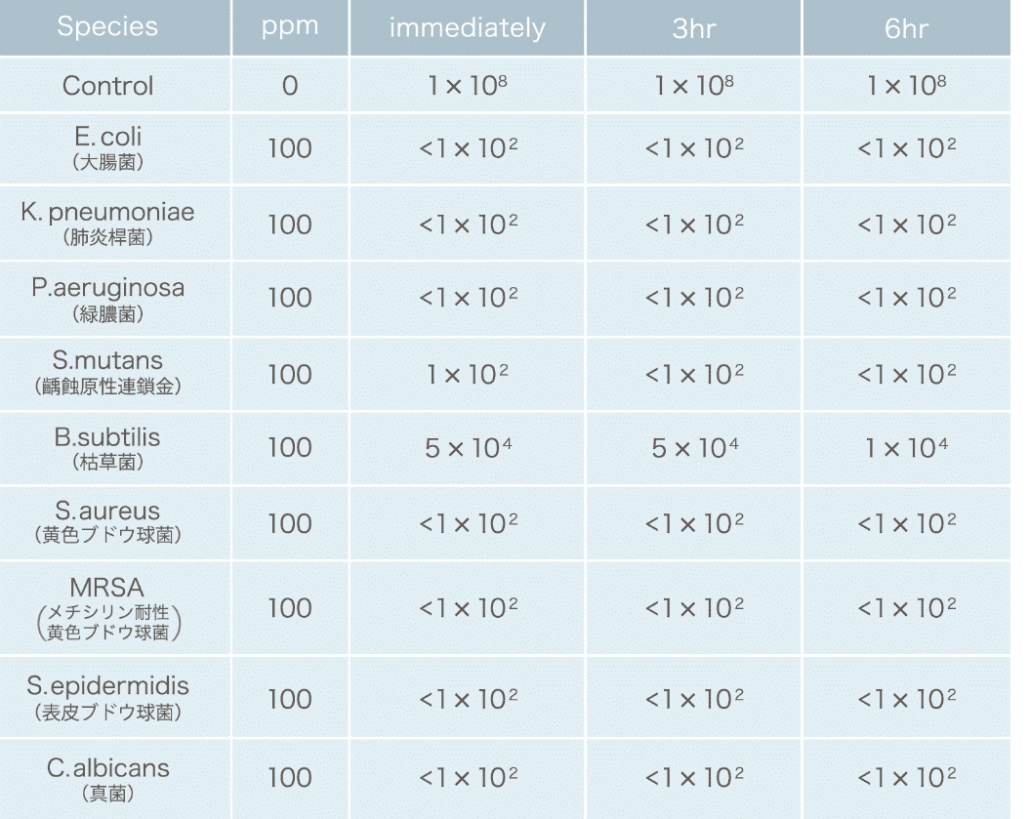 * Source: Bactericidal effect of Ozone Gel
https://www.mediplus-pharma.co.jp/_wordpress/wp-content/uploads/2022/04/ozonized-glycerin-w1600.jpg
903
1600
Mediplus Pharma
https://www.mediplus-pharma.co.jp/_wordpress/wp-content/uploads/2022/04/logo_en-300x100.png
Mediplus Pharma
2022-04-13 11:29:23
2022-12-16 14:07:51
Features of Ozone Gel under development as a drug